Standing Seam Roofing System
Our standing seam metal sheet roofing system is the leading system in the industry in terms of strength, durability, and performance, offering virtually limitless aesthetic possibilities.
The system can be applied with various kinds of materials such as, aluminium, stainless steel, and copper.
Strong and durable architectural standing seam roof system ideal for design-driven applications.
Structural standing seam roof system provides the highest performance in windstorm and water penetration in the industry.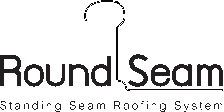 Supplied in aluminium or steel with a vast range of colours and finishes, the Round Seam metal roof system provides the perfect flexible solution for any designer with its "simple to design" principle, and its "simple to install" ethos for any contractor.
FLEXSEAM - available shape & design
ROUNDSEAM - available shape & design